Discover ING Bank Romania
ING is a global financial institution with a strong European base. Our customers are at the heart of what we do, and our purpose is to empower people to stay a step ahead in life and in business.
At ING we encourage you to `do your thing`, to do more of what you love. This is also the way we articulate our promise to offer frictionless banking.
Active since 1994, ING Bank started with 30 employees, to reach, 26 years later, in 2020, 2300 employees in its headquarter and another 1300 employees in ING Offices and ING Points. Since then, we pioneered the local banking industry, bringing innovation in the life of our customers. Currently, ING Bank Romania is the 4th bank in the local markets, based on the assets and is a universal bank with 1,6 million clients from three business segments: individual clients (Retail), SMEs and Mid-Corporate clients and Wholesale Banking.
There has never been a more interesting time to work at ING.
We're on a journey that's centered around our customers, powered by technology and driven by smart, determined people.
Our culture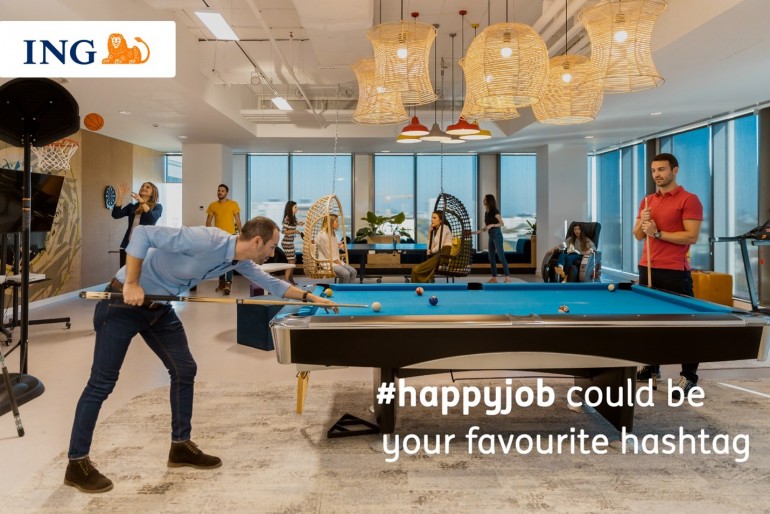 Our operations touch many lives: customers, employees, shareholders, suppliers and society at large. Success will only be achieved if we act with integrity, balancing the rights and interests of all involved.
The Orange Code is our manifesto for how we stay true to our purpose and our tradition of reinvention and empowerment. It comes in two parts:
ING Values:
• We are honest - with our customers, with those who govern us, and with each other.
• We are prudent - we deal with other people's money and financial information, and we honor the trust they place in us.
• We are responsible - we are mindful of the social and environmental impact of all that we do.
ING Behaviours:
• You take it on and make it happen - every ING colleague is expected to step up, use their initiative and make things better.
• You help others to be successful - our people work together towards common goals, and treat each other as allies, not obstacles.
• You are always a step ahead – we encourage all colleagues to stay alert to new possibilities, challenge old ways, and bring change.
At ING, we know that the best moments are those created with passion and enthusiasm.
Inspiration comes from the projects that encourage us to preserve our authenticity, to act autonomously and always be one step ahead.
Information Technology (IT) is the lifeblood of ING. It is inextricably linked with every aspect of the bank and supports all its internal and external processes. This far-reaching impact on our clients places IT at the cutting-edge of ING's business. We invest heavily in our systems and applications, we implement the best IT solutions and we develop our own software, often using agile/scrum methodologies.